Services to help you to achieve your goals
Chicago Computers offers a variety of services to meet your needs, to take you from collaboration meetings – all the way to Server administration. We believe that every project should be treated with the utmost care.
Check out our services below to help you meet your goals.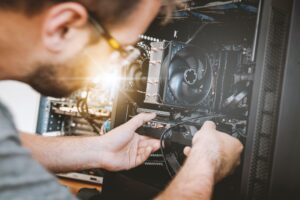 Consultations
Our combined experience and computer familiarity provides added benefits.
Recycling
Chicago Computers can effectively and efficently recycle all of your unwanted electronics
Purchase
We can assist with all of your IT purchase needs, from laptops to desktops to servers.
Repair
Our 20+ years of experience comes into play every time we are called to help with system and network problems!